Information on the city of Karlsruhe

XAFS16 will be held at the Karlsruhe Institute of Technology in Karlsruhe, Germany. Karlsruhe is situated in the sunny southern German area of the Rhine river approximately halfway between Strasbourg, France and Heidelberg, Germany. It is surrounded by interesting tourist areas such as the Black Forest to the south, the wine regions of the Alsace and the Palatinate to the west, the Neckar Valley to the north. Stuttgart, the capital of the state of Baden-Württemberg is around 80 km to the east. Karlsruhe can easily be reached via train or car from Frankfurt am Main, Strasbourg, or Stuttgart international airports (cf. Travel). With a population of nearly 300.000, Karlsruhe is a medium-sized city with more than adequate hotel accommodation capacity and an excellent public transportation system.
Karlsruhe celebrates its 300th anniversary…
In 2015, the city of Karlsruhe will celebrate its 300th birthday and the accomplishment of large urban infrastructure development project : Karlsruhe Masterplan 2015. To celebrate this special occasion, the city will host a 15-week summer festival from June 17th, the day the first stone of the palace's foundation was laid, until September 24th, the day Karlsruhe created its city charter. As the birthplace and iconic center of the fan-shaped city, the Karlsruhe Palace will play a central role in the festivities.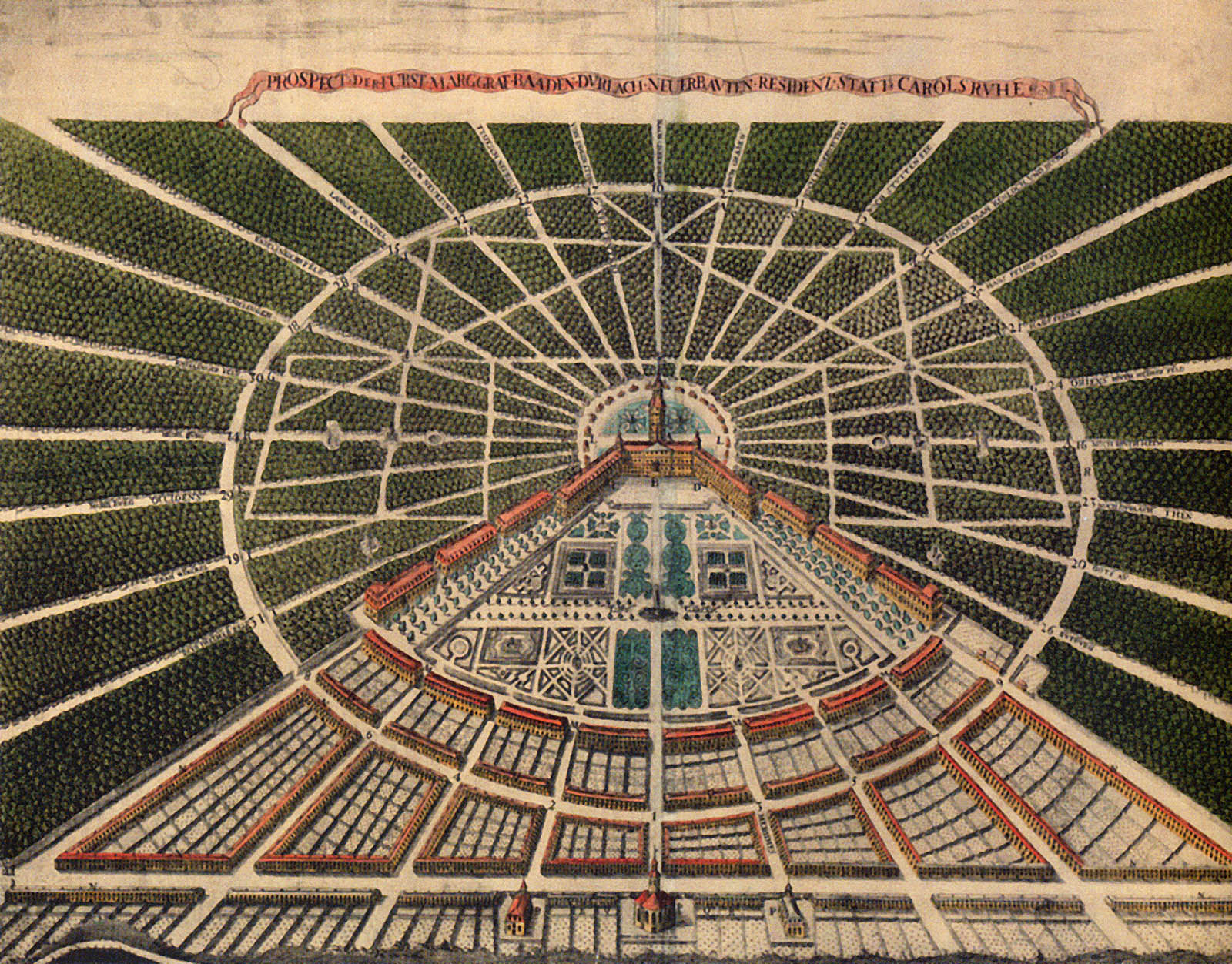 Historic map of the city of Karlsruhe (1721)
The festival program is packed tight with one highlight after the other. On June 20th, a grand opening ceremony in front of the palace will present the myth surrounding the foundation of Karlsruhe and its rise to a center of culture, science, and technology unlike ever before. To the delight of locals and visitors alike, a specially built pavilion in the palace park will be the heart of the summer festival and serve as a stage for over 400 events. From concerts, cabaret, and theatrical performances to film screenings, lectures, and workshops, there is sure to be something to suit every interest and taste.
Every evening from dusk until midnight, the palace façade will be bathed in alternating light and video projections to create a fascinating combination of historical architecture and modern media art. Particular mention must also go to the numerous special exhibitions taking place in Karlsruhe during this time. Art and culture enthusiasts shouldn't miss it! Special cultural highlights in 2015 include the GLOBALE in the ZKM | Center for Art and Media, both Large State Exhibitions in the Staatliche Kunsthalle Karlsruhe and Baden State Museum Karlsruhe, and the "Friedrich Weinbrenner" exhibition in the Städtische Galerie Karlsruhe.
Download additional suggestions for tours and sightseeing in Karlsruhe.
Karlsruhe's current transportation infrastructure project